History
Henderson Heritage & Tourism was formed in 1994 with the purpose of sharing and documenting Henderson's Mennonite heritage.  In the spring of 1998 the committee purchased an 8 1/2 acre site that was homesteaded by Jacob & Anna Friesen, one of the original settlers, on the north edge of Henderson.  Today this is the site of the Henderson Mennonite Heritage Park.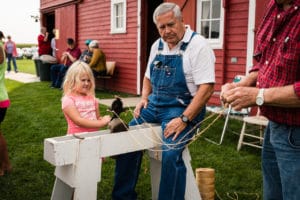 The site located just north of Henderson includes a replica building of the original Immigrant House built by the Burlington Railroad that housed the first Mennonite settlers in the area. Lincoln architect Jim Dyck donated his services developing the site layout. Facing the Immigrant House at the opposite end of the park is the Country Mennonite Church built to resemble a typical country church that both branches of the Mennonites built in rural Henderson in the late 1800's.
The park also features a turn of the century farm house, summer kitchen, granary, outdoor oven, windmill, water tower, outhouses, chicken house and fully restored barn built in 1911. Nestled in the back corner of the park is a metal machine shed housing large pieces of equipment and a shop.
The Visitor's Center called The General Store is located on the Main Street at the park and is an air-conditioned and heated building with public restrooms, office, gift shop, basement storage and display area.  The original District #73E Country School house is located at the park and is fully restored and available for school field trips and other educational activities.  A replica building of the original Henderson railroad depot is filled with railroad artifacts, historical pictures and equipment.