Things To Do in Henderson
When you visit Henderson there are many small amenities that can occupy your time. There are two parks in town with picnic shelters to host a family picnic or family reunion.
The swimming pool was built in 2003 and has a nice variety of play features for the whole family or a lounge chair to relax on.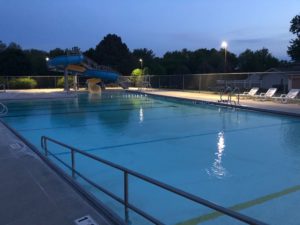 A newly added 9-hole disc golf course has been added to the south side of the Lakeview Park.  Click here for more information about the course.
A sports complex was completed in 2010 with two new ball diamonds ready to play baseball or softball on.
If tennis is your game, then there are two lighted tennis courts by the swimming pool to challenge your backswing. On one of the tennis courts there is a basketball hoop if you would rather work on your jump shot.  There has been two pickleball court lines painted on the tennis court also.
There is also a sand volleyball court that was constructed in 2018.  The school also has open gym on Sundays from 1:30 to 3:00 to shoot some hoops during the winter months.
In the two parks, by the swimming pool and also at the school there are several playgrounds to choose from.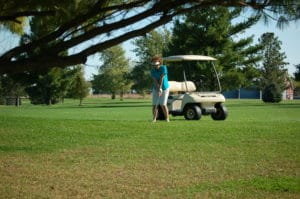 How about working on your golf game? Galaway Creek Golf Course is a well manicured 9-hole challenging course that keeps even the best golfers modest.
None of this is for you? Then how about a nice stroll around the man-made lake where a five foot walking path leads you around the whole lake to equal one mile? Biking is also allowed here. Or if you prefer exercise machines especially during the winter months, the Henderson Health Care Services has a Wellness Center in their basement that is open from 5 a.m. to 11 p.m. This includes many exercise equipment and weights.
Fishing is permitted in the lake if you have a valid Nebraska Fishing license as it is stocked with game fish provided by the Nebraska Game and Parks Commission. The lake was dredged and stocked in 2003 and is stocked with bluegill, white bass, crappie, channel catfish and sometimes even rainbow trout. The NGPC stocks it usually once a year with fingerlings (baby fish which have been hatched at one of the Nebraska fish hatcheries).
Looking for a little history lesson on Mennonite Heritage? Then the Mennonite Heritage and Tourism Park just north of town would be a good place for you to visit. Many volunteers have put in hours to create a realistic setting of how it was in the early years for you to venture through.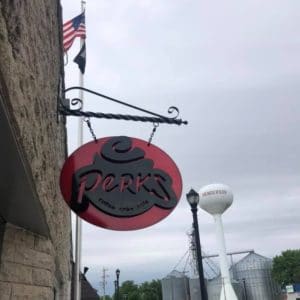 If you get hungry during the day, Sparrow's Branch Cafe serves up daily lunch and dinner specials.
Subway is also located at the Interstate and is open from 11:00 a.m. to 10:00 p.m. and they also have ice cream!
The Petal Pusher is a flower and gift shop on main Street. The Henderson Pharmacy is another business on main street that sells gift items. These businesses are open weekdays during normal business hours.
Click here for local events that are held annually in the community.
We hope you can find something to do in our town and hope you enjoy your visit!