Parks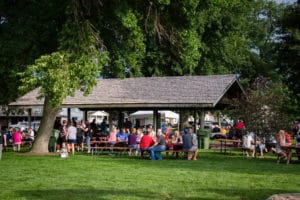 Henderson has two existing city parks. The Downtown City Park is approximately one acre and is located just east of Main Street in the town center. It includes playground equipment, picnic tables, picnic shelter, restrooms, gazebo and a bandstand.The city's largest park is Lakeview Park located in the southwest part of Henderson on 55 acres. This park is the location of the annual car show which is held during Community Days in July. The park includes a lake, tennis courts, park shelters, playgrounds and the town's newer swimming pool. The city also offers two new ball fields and a sand volleyball court.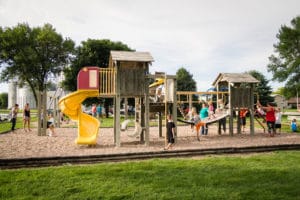 The lake is surrounded by a mile long sidewalk which is five foot wide and is lined with trees and park benches. There are two bridges that arch over the lake. A playground offers many exciting and challenging activities for children of all ages. In 2003, the lake went under a renovation project. The project included adding a 4.67 acre sediment pond upstream from the lake to catch sediment prior to entering into the lake. The lake itself has been dredged and depths range from 4′ at the north end to 12′ on the southeast end. Some of the rip-rap was placed strategically throughout the lake for fish habitat areas. The shorelines are sloped to be more user friendly and do have water grasses placed along them to help stabilize the banks. The lake has been restocked with game fish including white bass, bluegill and channel catfish. The Nebraska DEQ, University of Nebraska-Lincoln and Nebraska Game and Parks assisted in the funding by contributing $300,000 for this project through the CLEAR Grant and the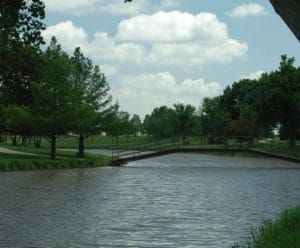 Upper Big Blue NRD also contributed in the funding efforts of this project.  The parks are maintained by city employees.